Metal Bat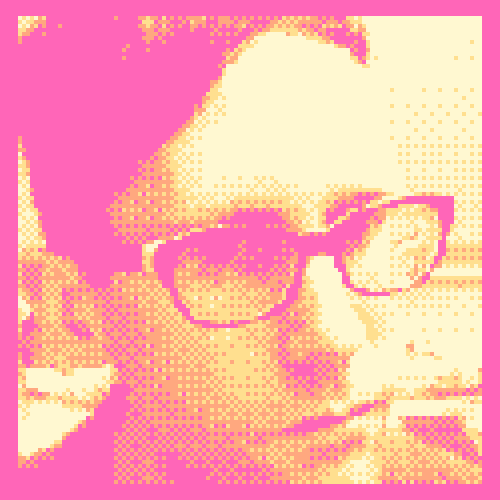 William Van Hecke is me.
I design software and pursue esoteric hobbies in Seattle. It is lovely to have you here!
@fet is my Twitter thing.
Microcosmographia is my newsletter thing.
This site exists to keep track of all the dumb stuff I have on the internet. The sections shuffle every hour.
Collection
Design
Craft
I am learning to knit. You can say hello at my Ravelry page.
Every few years I come back to 3D modeling, to see if it has become a sane pursuit. This has been in Cinema 4D, then Blender, and most recently Modo. I always lose faith before shipping anything.
My friend Julian has been teaching me pixel art lately; we post the progress at Momo Pax, our old game-studio site.
In like 2000 or so I made a Genesis controller work on PSX.
In 2009 I built an arcade stick to the point that you could plug it in and play fighting games with it. Someday I may even finish it to the point that it is worth photographing.
History
Coding
I really like Python and jQuery.
Since 2003, Julian Lancaster and I have been a game studio called Momo Pax, which has built many things and shipped none of them. Nowadays we just use that site as a place for him to teach me about pixel art.
It is remarkable how many names in marketing and fiction could have been created by my Badass Name Generator.
Helpify is a tool for turning OmniOutliner documents into Apple Help Books.
Video Games
Music
Writing
Heta no Yokozuki Sekai 4 is a blog of varying merit.
I have a long-running secret fiction writing project which is not linked from anywhere and which you will never see! But it is out there.
Translation
I enjoy making things that are in Japanese not be in Japanese anymore.
Dramatickers dot com is my long-running project to provide English info and lyrics for Clammbon, my favorite band in the world. I've translated many of their songs and subtitled both of their films!
A bunch of us fans are trying to create a new English version of the lovely PS2 game Ar tonelico 2, at the At2 Relocalization Project. I worked on the style guide, translated Chroche's Cosmosphere, and translated Frelia's Binary Field.
In 2002, I coordinated the Xenosaga Madness Project, a complete translation and gameplay guide to the PS2 game Xenosaga Episode I. You can also hop straight to the guide, which in retrospect is kind of an impressive document.
If you like her music you might enjoy this list of YUKI song titles translated into English.