萌え Is A Bullet Point Now
October 29, 2006
I've long been amused and distressed by the way video games are marketed in the USA. Inevitably there is a bulleted list enumerating unquantifiable things like "intense, fruit-bat-based combat" or "an immersive story based on the theme of love". As if you'd hold two games side by side and do a feature comparison: "Ah, this game has an intense battle system, but that game has a thrilling battle system."
Today I read NIS America's press release for Ar tonelico, in which they play up the game's undeniably Akihabaraesque nature: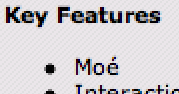 If you don't know the word yet, educate yourself now. This is the word that has defined the progress of Japanese geeky pop-culture and fandom for the past 5 years, and its allure is its resistance to definition. Now it's a bullet point in the marketing for a game release in the USA. We've come a long way. To NIS America's credit, they go on to give an impressively honest and unmarketingy explanatory paragraph of what the word means.
Combined with the company's decision to take a bunch more time to localize it right (and assuming that's what they're doing, not just buying time because they weren't anywhere near finished), I'm cautiously optimistic about the US release of this game. Go NISA!
P.S.: I am a little sad that they rejected the original subtitle The Girl Who Kept Singing At The End Of The World in favor of the genericky Melody of Elemia.