3peace
May 24, 2007
As good as clammbon's studio albums are, their live performances seem to be on an entirely different level: the word that keeps coming to mind as I watch or listen to their concerts is chemistry. Each member of the band, the music itself, and the audience are involved in a big, profuse positive-feedback loop that precipitates happiness.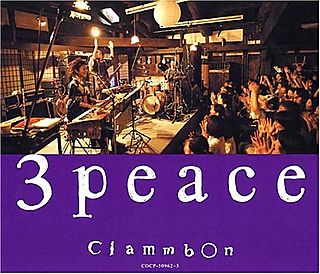 クラムボン
It's not common for a non-comedy music album to make me laugh out loud while I listen to it. But the way the members of the band and the audience crack each other up makes me want to laugh along with them. At the beginning of "Gaishutsu-chuu":
This all happens during the song. Several audience members call out jokes, comments, and exclamations during and between the songs. One guy in particular quite annoyed me for a while, until I realized that the band was dealing with him in the most graceful way possible: not darkening the atmosphere of the show by complaining, but playing along, dubbing him the voice of God, and telling their own jokes back at him.
The show is a record of how close and friendly the band is with their fans. Through the antics in their music videos, their encouragement of tape-trading, the tone of their live shows, even the whimsical designs of their album packages, the band has always been saying, hey, let's be friends.