A Farewell to Kings
April 15, 2007
Here's more classic epic prog-rock Rush, with two more fantastical concept pieces. I'm not sure exactly what nation the song "A Farewell to Kings" is about, but it sure does seem to describe the current state of the USA.
Cities full of hatred, fear, and lies; Withered hearts and cruel tormented eyes; Scheming demons dressed in kingly guise; Beating down the multitudes and scoffing at the wise.
Oh, can't we raise our eyes and make a start; Can't we find the minds to lead us closer to the heart?
At this point, in 1977, Rush is one step away from being as deeply cloistered and inaccessible as they'll ever get. In retrospect, I have to wonder what I'd think of this stuff were I just discovering it. Probably some things require the mind to be as open as mine was at age 12.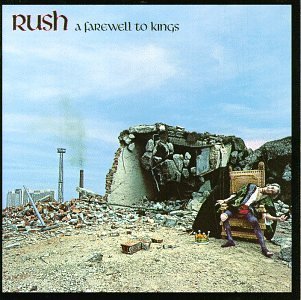 Rush