ABC News Site Is Kind Of Dumb
February 7, 2007
I clicked a "Get Video URL" link on an ABC News page.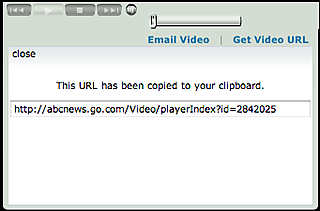 No, it wasn't copied to my clipboard. I checked and it was still something I copied earlier this morning.
If it had worked as intended, it would have blown away some data I had found important enough to keep, without asking me.
The URL is the same one as in my browser's location bar. It's not the URL of the video; it's the URL of this page that has the video on it. Why does this feature even exist?