Ar tonelico preorder dance begins today!
December 19, 2006
I have reserved the ability to preorder the North America version of Ar tonelico; what are you waiting for?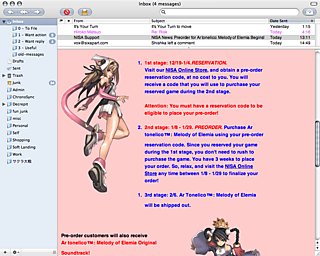 Ar tonelico preorder reservation
The NISA e-mail included our first glimpse of the English version: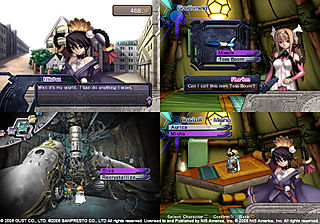 [](http://www.nisamerica.com/images/email/ssb.jpg)
Orica has become "Aurica"; I'm not sure why, but it's not bad.
Misha is spelled "Misha" after all; a lot of the original materials romanized it as "Misya", which I'm glad they avoided for the English release.
Glassmerc (グラスメルク), the synthesis system, is now "Grathmeld". Again, not so bad, since it was a pretty arbitrary-sounding name to begin with. I guess we'll see how the rest of it goes. I'm most worried about characters' individual voices getting lost in NISA's often too-droll, ephemeral writing style. Will stoic, centuries-old Shuleria talk like a Southern Californian? Ah, that's too harsh… I can't wait to play again!