Classic
August 6, 2007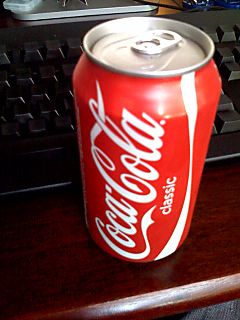 So… I guess I'm a Coke drinker now? If you have known me at any time since I was, oh, eight years old, this ought to be surprising. I have been a Pepsi fan since my godfather kept cases of Pepsi bottles in his house and I rode over there on my Bigwheel to have some. In high school, we found that in every photo of our band, I was holding or at least standing near a Pepsi vessel of some kind. In college, all of the party photos show me holding the bottle of Pepsi I'd brought along in place of alcohol. One time, at a restaurant that only serves Coke, I impressed the server with my Pepsi delivery man shirt such that he went across the street, bought a bottle of Pepsi, and brought it to me in a champagne bucket.
Then, a few weeks ago, I read a 37signals blog post that mentions the "new" Coke can design. Here's the radical design concept: It's the Coca-Cola logo, in white, on a red background. All of the extraneous crap that made the design so weak, especially the fake water drops, is gone. I was so impressed that I made myself drink a can of Coke.
While I drank that Coke, I thought about how the taste of the pop resembled the attitude of its brand: Pepsi is brash and vaguely sickening, like a greasy Britney Spears in gladiator armor singing "We Will Rock You". Coke is a bit more laid-back and somewhat respectable, like the freaking genius anti-GTA Coke commercial. The more I thought about it, the more I found myself enjoying it. Maybe I'm letting marketing control my mind. But I'd rather reward a company that promotes itself as classic and positive than one that just seems sleazy. What do you think?