Click to Interact!
March 24, 2007
I went to weather.com and tried to find out how much it's supposed to rain tomorrow. After typing in "seattle", then clicking a little "Seattle, Washington" link buried in a big page of nonsense, then scrolling past another page of nonsense, I found three little boxes telling me the weather for tomorrow. And a map.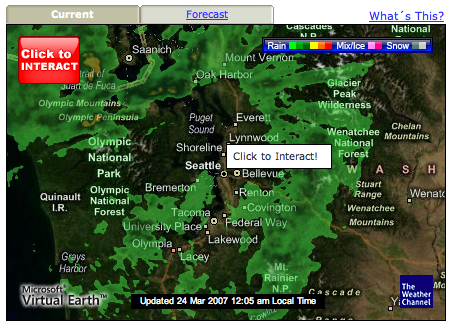 Microsoft Virtual Earth's way:
Big red shiny non-button in the upper left that says "Click to INTERACT"— as if "interact" is a meaningful and desirable verb, and someone might be thinking, "boy, I sure would like to INTERACT, but I can't figure out how!"

A reiteration of "Click to Interact!", this time in a box following your pointer all around, just in case you forget how to INTERACT and you don't want to move your eyes more than nine pixels to be reminded. By the way, neither clicking nor dragging seems to do any kind of INTERACTING; instead it just takes you to another page with another map.

Microsoft and Weather Channel logos, Enhancing Your Meteorological Enrichment Experience and Getting In The Fricken Way

Usability-through-dopey-questions: a "What´s This?" link that'll sit there long after you've learned that This is a Weather Map.
Google Maps' way:
Changing the pointer to a hand when it's over the map, so you discover that you can drag it around. A zoom slider. The interaction is obvious and natural.
A useful map directly on the page, wherever it's embedded, instead of a link to some other page where you drop your context, wait for it to load, and then use the map.
An attractive, Googly style that is immediately recognizable, and a little copyright notice in the corner to reinforce the suspicion that "ah, this must be a Google map".
No superfluous explanations or justifications; just a fun and useful tool that explains itself with subtlety as you try it.