Dae Jang Geum — Complete!
August 2, 2006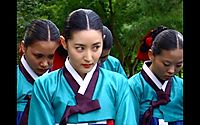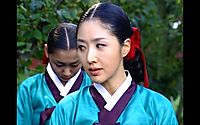 Andrew and I have spent 54 hours over the last 4 months watching Dae Jang Geum, the max-popular 16th century Korean drama. I first saw the show while visiting Piroko this New Year's; it had just started on Japanese TV and she was already hooked on it.
When I came back to the USA, I found that YesAsia had the whole series as three $70 box-sets, whereas in Japan it was being sold as six $125 box sets… After double-checking that Piroko wouldn't mind reading English subtitles instead of listening to Japanese dubbing, I started collecting the US version. Somewhat surprisingly, Andrew seemed interested in watching. Throughout the first ten or fifteen episodes, I was worried that he'd lose interest, but we made it to the end, and in good time.
The show is packed with likeable (and despicable) characters. If asked to pick favorites, I'd end up listing almost the entire cast. Through the endearing characters and charmingly syrupy melodrama you get culinary, medical, and historical education. The subtitles are fair; you can almost always understand what's going on, but occasionally the cultural immersion is halted by linguistic dissonance. All in all, it's a fine break from the irony, misery, and indecency of so much TV. I recommend this show to anyone.