Different Stages
May 1, 2007
This album came out when I was in high school. I was driving by then, so I could hurry to the Best Buy near 135th and Cicero right after class and pick it up on the release day. It was great to buy the CD and immediately stick it in the CD player of my Mom's silver Ford Escort; that's something I can't do anymore now that I have a car with a cassette deck for hooking up the iPod. The CD stayed in that car for a very, very long time, spending lots of time in the "Now Playing" display I installed on the dashboard.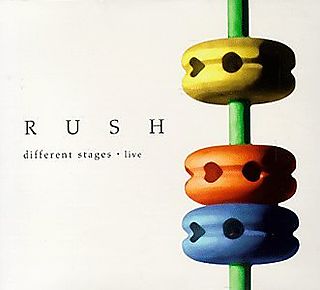 Rush
When I started my summer job downtown, my brother-in-law and his coworkers put on this album quite often. The music-aficionado/software-engineer Goodwill was astonished that Rush was the favorite band of someone as young as me.
Listening should push Rush to to #3 in my play count charts at last.fm, beating out Yaida Hitomi and Pizzicato Five. Of course, if I had last.fm data going back to 1993, Rush would be #1.