Dokusho Suru Rei: First Blood
September 6, 2006
A while back I somehow got into building garage kits. My first one, Goth-Loli Rei by Atomic Bom, turned out all right, but I realized it was actually a recast bootleg kit. I wasn't planning on building any more after her, but I felt guilty for buying a bootleg kit, and ordered a real one as penance. This time it was Dokusho Suru Rei, a kit by New Line. I like to take my time with this kind of thing (it took me about 2 years to build my Sakura Taisen Koubu-Kai plastic model) so she's been in progress since about April.
A lot of the work is pretty much invisible. I spent a long time washing, cutting, filing, sanding, Dremeling, priming, drilling, and pinning the pieces. A ton of effort has to go into making the rough pieces presentable enough for painting and assembly.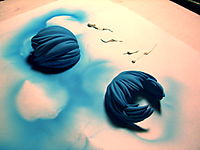 Getting to the point when I could paint was a long process. I ordered the airbrush, waited for it to arrive, started thinking about air compressors, ended up getting a free compressor from James at work, went paint shopping, ordered some other paints from HLJ, did a ton of research, bought some more paints, bought some thinner and alcohol, bought more paint, finally hooked up the airbrush and practiced. Then tonight I went ahead and put some color on Ayanami. I chose the hair because it would be a single solid color, and I already had some paint that was just about the right color.
It got dark as I was working, so I had to act quickly, and eventually I brought a lamp out to the balcony so that I could continue. The first coat I put on, Hobby Color Aqueous Sky Blue, was actually too dark, and I went over it again with a mixture of Sky Blue and White. It's hard to tell in this photo, and in real life, how the color turned out. I'll have to wait until the sun comes up tomorrow…