Dokusho Suru Rei: Redemption
October 19, 2006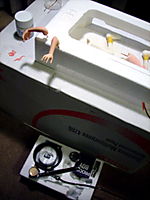 Dokusho Suru Rei awaiting color correction
Ayanami's shoes turned out just fine. After a while, I mustered the courage to airbrush her skin. I knew I'd have to do it all at once, and that of all the colors on the kit, it would be the most delicate one to get right. I mixed together the Tamiya flesh color, some Gunze Sangyo clear yellow for transparency, and plenty of white for paleness. The resulting color was a pretty unappealing and inhuman yellow. So I added just a _touch _of red. The result was this awful orangey mess. I used of all of my white paint trying to lighten it to a usable tint, but the red was just too strong. I gave up and just about declared to myself that I would sell off all my kits and never try building one again.
My good friend Chris convinced me that it wasn't all that bad, and that I should take a break and give it another go some other time. He managed to get me excited about building again, so it was on my mind for a while and today I picked up some nice milky flat white paint from Tamiya and came back to the kit.
This time I mixed the paint very carefully and gradually. Instead of tipping some of the red paint directly out of the pot, I dipped a stirrer in and just used the amount that stuck. The ugly, uneven, orangey red already on Ayanami's arms and legs turned out to get covered up quite nicely by the new pinkish beige color. As it turned out, the new pale color looked great with the old saturated color showing through from underneath. I ended up having to mix in a touch more red to match up the areas that hadn't gotten the ugly color and the areas that had the ugly color showing through.
I did my best to evenly coat all of the skin bits with a consistent color, but it'll be hard to tell until it's all dry and I can look at it in sunlight. A few times during the spraying, after I'd gotten into the groove and was feeling confident about the color, the airbrush did this weird sputtering thing and splashed some big drops of water and paint onto the model. I was able to get most of it smoothed out, but I think I'll soon have an appointment with some very fine sandpaper. :\