Dvorak
June 28, 2007
I have been thinking about Dvorak lately. I've typed using this alternative keyboard layout for six years now, and I keep forgetting that it's actually kind of an uncommon thing (though I'm proud enough of it to show it off in my header graphic up there). I contributed to the possible conversion of a fourth person while at WWDC, I got some comments about my rearranged keyboard at the Genius Bar, and then my physical copy of The Dvorak Zine arrived!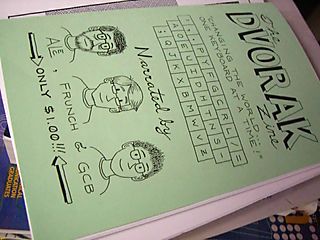 I don't remember how I came across it, but this is one of the greatest evangelical devices I've ever seen, for Dvorak or for anything. The power of comics is strong! I've since gone on to become a big fan of the guy who drew it, Alec Longstreth.
If you ever type, and I bet you do, you should check out the Dvorak Zine site today.