Femblem
December 5, 2006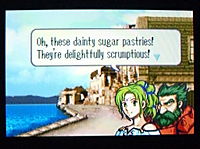 When Julian was here, almost a year ago, he showed me a bit of Fire Emblem on the Game Boy Advance. I sure thought it was cool, and made sure to get myself a copy of The Sacred Stones. I played it off and on for a few months, until the day we were in line for the Wii, and I had lots of hours in a row to play it seriously. Now I'm quite hooked, such that my DS lite has the gray GBA cartridge permanently sticking out, and I'm just as likely to play that as I am to go downstairs and turn on the Wii for some Zelda.
Sure, the sprites are perfect, the micromanagement is fulfilling, and the story is charming. But what has really, really impressed me has been the localization. I can think of games that seemed "fine" after translation to English, but this is the only game in my memory with sparklingly good writing. Somebody at Nintendo deserves a big raise, and like, some yachts.
Noble knights speak in valiant and bold proclamations. Distraught maidens fret. Villains say calmly callous things that make them seem far more evil than the typical insane laughing villain. After so many years of uniquely stylized, hyper-characterized characters, brandishing hilariously huge swords from level 1 and stomping, nay, teleporting around the world like, well, like video game characters… It's tremendously refreshing to have a game that makes you feel like a perfectly ordinary sword is a deadly weapon, and that every battle is a gamble with death.
Yeah, when a character dies in Fire Emblem, they stay dead. That's the main gimmick of the series, and it's huge. Everyone has a story, and no one is expendable. When a character I nurtured from level 1, through 20 levels and a class-change, dies at the end of a 40-minute battle, I feel the regret and reset the game to try it again. Somehow this doesn't get frustrating. "I should have been more careful", I think. Likewise, when a long battle comes to victory, it's that much more gratifying.
So yes, Fire Emblem. I'm ready to play all three GBA editions, over and over.