How I Spent My Summer Staycation
July 28, 2008
When I need to relax, I don't travel far away. I do take a few days off, but I bring video games in to the office instead of working. I still get to be around my cool coworkers, make coffee, and eat tasty meals prepared by the kitchen staff. This time I also took advantage of the new high-end theater system that just got installed here. This is what my status blog on our internal wiki has looked like over the past few days:
July 23, 2008
PlayStation: moon. Got through the prologue, but my dude keeled over and died after about a half an hour. My friend Tom says this is because I ran out of action points.
PlayStation: Persona 2 罰. A really sophisticated, multilayered RPG. Also, it has tons of complex dialog with pixelated little kanjis and no voice acting. So I got tired pretty quickly. I'd love to play through the whole Persona/真女神転生 series some time though.
PlayStation: Valkyrie Profile. More pixelated little kanjis, but with voices, and miraculously good production values. Got pretty involved with this one, and I think I'll try to finish it in the near future. Several people whose opinions I trust consider this the greatest console game ever.
The main music/action sequence from The Fifth Element. :D
PlayStation 2: うたわれるもの. Still can't stand to play this for more than about seven minutes in a row. It's a shame I paid the MSRP of like 6000 yen for it.
PlayStation 2: La Pucelle 2周目はじめました。 Surprisingly detailed pixel-art and animation. A pretty engaging early NIS tactics system. This is the game I'm going to try getting through.
July 24, 2008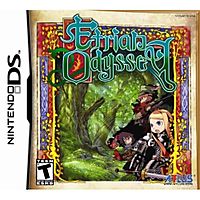 When I got to the office, Etrian Odyssey was here! This game has been at the top of my wishlist for about a year. I spent the rest of my day creating characters, getting into difficult situations, and carefully trying to avoid Game Over. It's an unforgiving game: if you try to go too quickly, or you aren't terribly careful in battle, or you lie down and take a nap in a flowery clearing when the game suggests it, you will die. And it's pretty easy to get into a situation where you don't even have enough money to revive your dead characters, or even to put up your living characters in the inn. So you have to either send your beat-up dudes down into the dungeon to scrape together some cash, or you make a new party to go collect money for your main guys.
My main party at the moment comprises:
Io - Lv 6 Landsknecht
Europa - Lv 6 Survivalist
Themisto - Lv 6 Troubadour
Ganymede - Lv 6 Medic
Thebe - Lv 5 Alchemist
July 25, 2008
More Etrian Odyssey. Today's party:
Metis - Lv 6 Protector
Adrastea - Lv 5 Dark Hunter
Themisto - Lv 7 Troubador
Ganymede - Lv 8 Medic
Thebe - Lv 7 Alchemist
Most of today was spent rearranging my characters and their equipment, and catching up the ones who weren't in my group yesterday. Metis has a nice short sword, and Adrastea finally has a decent whip. Even Themisto is doing a fair amount of damage when she's not singing.
Watched some RUSH and clammbon DVDs in the new theater. Made the OMNI logo in my coffee.
July 28, 2008
Trying to get Io to level 20, for a sick boy who wants to meet a powerful Landsknecht. Have ventured as far as B3F in the labyrinth, but the Stalker there is pretty outrageously powerful and kills my dudes with a single attack.
Io - Lv 9 Landsknecht
Adrastea - Lv 11 Dark Hunter
Themisto - Lv 12 Troubador
Ganymede - Lv 12 Medic
Thebe - Lv 12 Alchemist
But my staycation is over, so I'll have to actually do work in between EO sessions. :D