Impressions: Sega Surf Wave wireless PS2 controller
August 16, 2006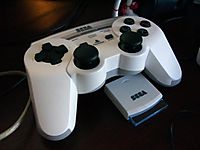 I admire everything about this controller except that it doesn't work properly. It looks great, it feels great, it's solid and satisfying to use. I was ready to make this my personal controller for the rest of my PS2 life. But whenever I try to use it, within 30 minutes the PS2 starts getting random button presses. In the middle of a battle in Atelier Iris, menus would get unexpectedly canceled. During story scenes in Xenosaga Episode III, the voices would cut off and the dialogue would progress without my even touching the controller.
I tried putting Guilty Gear XX#Reload in training mode to watch what buttons it thought I was hitting. The little input indicators were streaming across the screen as fast as the game could interpret them: Punch Slash Slash Slash Punch Punch Slash Heavy-Slash and so on, non-stop for five minutes. Then it'd calm down to about one punch every 5-10 seconds, then pick back up again. I tried moving the PS2 and the controller around the room, resetting the controller, resetting the game, putting in a different game, using a different PS2, turning off other electronics, changing the controller's batteries, shielding the receiver with metal objects, and yes, even smacking the controller threateningly. Nothing helped. My final test will be to bring the controller to work and see if it works properly on the PS2 there. I hope that it does, because that would suggest that there's some kind of nasty interference at my home and I might be able to succeed by moving the whole entertainment center to the other end of the apartment.
Update: it acts up at work, too. I'll try to send it back. ;_;
Update: I sent it back and bestsku.com refunded my money. Time to start the search over again…
Update: The new one from Play-Asia arrived and it works flawlessly. Silky wireless happiness.