iTunes 7 is Good
September 12, 2006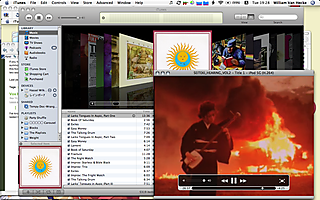 Goodness:
The video controls appear as a nice overlay in the video window. No more going to Preferences to watch something full-screen.
When you close the video window, the video stops playing. It used to move to the lower left corner of the main window and keep playing there, which is not at all what I want a video to do when I close it.
CoverFlow, the cool 3D music library browser that inspired the OmniDazzle interface, is integrated into iTunes as a new view.
There's also a nice new view that shows album art side by side with the tracks.
The source list on the left is sensibly divided up into Library, Store, Devices, Shared, and Playlists, instead of the big mess it used to be.
The new iPod management interface is really cute, with all of your iPod-related stuff in the main window instead of hidden in preferences, firmware updates available within iTunes, and a cool graph of how your iPod's space is being used up.
edit: Gapless playback!! Man, it's about time!! So many great segues (The Talking Drum into Larks' Tongues In Aspic Part Two comes to mind_)_ were ruined for so long…
Badness:
The new thingy for synchronizing music between computers via the iPod only works for music purchased from the iTunes Store, not stuff you ripped from your own CDs. That would have been genius if it could have kept my whole library in sync between my work machine, my MacBook, and my mini.

Selecting an album in the CoverFlow view or the grouped-with-art view doesn't actually select that abum; it just moves you to that album in the huge library list. So you can't, say, go to an album and then select all tracks and do something to them, or select an album to listen to without it going on to the next album when that one is over.

Failure to find album art is totally silent. If it can't get the art, it just does nothing.

Bugs… My menus turned a weird translucent blue, all tracks from unknown albums get listed separately in the album views, the CoverFlow view's scroller can get mushy-looking, and I've already had a crash.