James Cameron's Avatar
December 23, 2009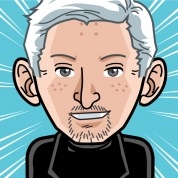 I need to get back to treating blogging like megatweeting; the more I try to take my time and compose top-notch content, the more likely I am to sit on post ideas until long after they are interesting to me.
Avatar impressions!
Papyrus!? $450,000,000 on this movie, and they went with the Arizona iced tea font that comes free with Mac OS X? They could have commissioned a top designer to create an entire superfamily of typefaces for use in all of the film's materials. There's a much more dynamic, hand-drawn-looking logo at the end of the movie that looks much nicer than the slightly modified Papyrus one.

Okay. The story is a big, outrageous cliche fulla stereotypical characters and "noble savages" who wear bones in their noses and even make the high-pitched whooping noise, albeit without batting their mouths with their hands. The MacGuffin is actually called unobtainium, the old sci-fi joke material. And that's great. This movie serves to introduce the world to what fantastical movies are going to be like for the next decade or so. It doesn't need a deep, twisty, shockingly original story getting in the way of the immersion. Instead its story, its sketch of a story, is an old formula rendered in an unprecedented way, so that we can turn off our critical minds and enjoy the adventure.

The adventure takes place in a Roger Dean album cover. Maybe with a bit of Panzer Dragoon in there.

This is going to be one of the rare Western properties that Japanese fanartists run with. Harry Potter is the only other one that comes to mind. Most of our stuff is kinda visually bland and indistinct compared to the extravagance of Japanese visual culture. I truly hope that Avatar turns around the arms race of grim and gritty style in our fantastical entertainment.

I tend to find the climactic battle to be the most boring part of any movie. Yes, the guys are fighting, wow, they are totally hitting each other really fast, and jumping around. Maybe shooting or blowing up some vehicles. Fascinating. But I spent the entirety of this battle scene pressed against the back of the seat, holding my breath, with my eyes popping out.

The conlang was nice, though it sounded like most conlangs tend to, which is to say kind of like someone made it up. It's no Hymmnos. I'm glad that this particular film didn't commit the common crime of having a character learn a language to flawless fluency (perhaps with a slight accent) in a matter of months.

Sitting in the fifth row of an Imax theater, staring up at the screen, cured my chronic neck pain, no kidding.
It was good! Go see it while it's three dimensional!