Last.fm history chart in OmniGraffle
March 7, 2008
So I looked at the Information Aesthetics post about graphing out one's music listening history from last.fm. It's pretty neat, but of the two tools available for drawing these kinds of graphs, one is for Windows and the web-based one has been processing my data for like four days so far.
So I took it upon myself to graph out my music history in OmniGraffle, with the help of appscript.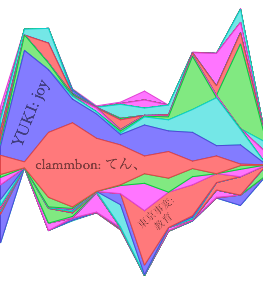 Here's the script itself; you'll need appscript and OmniGraffle on your Mac. Change the ".txt" to ".py", then run it like "python lastfmhistory.py" followed by your last.fm username. The result is a little messy, but OmniGraffle makes it easy to prettify.
Here's the big, wide version of the image. I have annotated interesting blobs and bottlenecks with album names and such.
Here's my OmniGraffle file, if you want to see how it all came together.