Lightboxes are annoying
December 12, 2006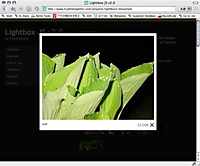 Hope you weren't planning on using your browser for anything useful here
You may have seen these things used on people's blogs, or news sites, or product sites, or anywhere that people want to be hip and Web Two Point Oh:
http://www.huddletogether.com/projects/lightbox2/#example
The supposed benefit:
You don't have to navigate to a different file to see the image at full size.
The site looks, like, super cool funtimes!! Everyone who clicks will be amazed!!!!!¡
Why this is annoying:
The whole page dims. Then the box appears. Then the box grows vertically. Then the box grows horizontally. Then the image fades in. Then the controls extend out. Wow. You just waited three seconds to look at a single 300x200 pixel image. When you're done, you get to wait another second while it fades out and the page comes back.

While the image is open, all you can do is look at the image. The whole page is faded out, and the image can't be moved to reveal text underneath anyway. So staying on the same page isn't very useful at all.

Forget using your keyboard to navigate. On a normal web site, you can click a link to an image, check it out, then hit, say, Command-Left to go back to the page. If you want to see the image again, you can hit Command-Right to go forth again. If you want to save the image, hit Command-S. With Lightbox JS, all you can do is find the close button and click it.

Some implementations put the close button in one corner, some put it in another corner. Who knows where the close button will be? Chances are that it won't be in the same place that close buttons happen to be in your GUI of choice. So you just wait for the button to appear, then click it. Sometimes, controls don't appear at all until you mouse over the correct part of the box!

There's no Option-click to download, Command-click to open in a new tab, or any of that usefulness. You have but one way of accessing such an image: by looking at it in the lightbox thing. So forget looking at an image side by side with the page that mentions it, or looking at several images together, or any of the other things you should be able to do with your browser.

There's no way of knowing whether an image will open in a lightbox until you click it; the URL just looks like a regular, innocent image file.