Permanent Waves
April 16, 2007
I don't know what happened between 1978 and 1980, but to me this seems like the most abrupt style change in Rush's career. I guess it's true that Natural Science and Jacob's Ladder sound like the same Rush as what created Hemispheres, but the rest of the songs seem so much more wide open for everyone to hear. Maybe the difference is all in my head, and anyone else would make the division not here but on one of the next couple of albums where Geddy starts playing the synthesizers on every song.
Maybe it's that starting here, the songwriting and lyrics seem grown up. The lyrics were always good• before, but now they seem *wise. The arrangements were always impressive, but now they're somehow elegant. Yeah, maybe that's it.
The other night, having curry with Chris and Pae, "The Spirit of Radio" came on the restaurant's stereo. I was thrilled to hear it, but simultaneously a little disappointed that my ritual was disrupted by listening to that song about five days early.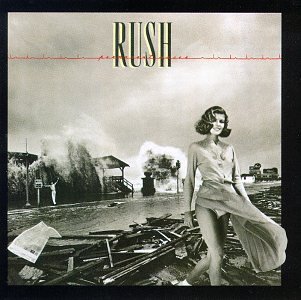 Rush