Press OK To Continue Stopping
January 16, 2007
If you try to close the Vox Compose page while you have unsaved changes, you get a handy dialog that asks if you really want to go away. But the UI of it is kind of unpleasant: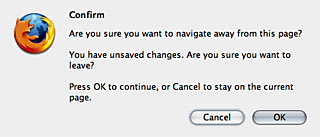 There are six things going on here:
A big Firefox icon — This doesn't help. It's actually kind of misleading, because this makes it seem like Firefox generated the message. This is Firefox's fault, not Vox's.

Confirm — Okay, it has the word Confirm at the top, for some reason. This doesn't get me any closer to understanding what's going on. It just says Confirm.

Are you sure you want to navigate away from this page? — A question. The problem hasn't really been presented yet, so I can't really come up with a meaningful answer yet.

You have unsaved changes. Are you sure you want to leave? — Aha, there's the problem. And the same question again, worded slightly differently. Okay, now I know what the problem is, kind of (I don't know whether I'll be able to retrieve my changes if I come back later), and I know what kind of decision I have to make.

Press OK to continue, or Cancel to stay on the current page. — Danger! If I just read the first half of this sentence, I'll press OK, to "continue" editing my post. Whoops! It actually meant to continue leaving.

Cancel and OK buttons — I don't know if this is possible in JavaScript alerts, but you should really, really label buttons with the actions they represent. If I have to look back and forth between the message and the buttons to figure out which button does what, I'll just get confused. There's a reason buttons have labels: it's so we can find out what they do! My ideal remake of this message would be like so:

The alert icon is stolen from OmniWeb, but I don't feel too bad since I made it in the first place. :D
What do you think? Is it better? The rewording is certainly possible; I don't know whether JavaScript has access to the icon or the button labels. But if not, could they make their own pop-up in the page itself, like most other interfaces at Vox?
I don't mean any ill will to Vox; I'm just playing. The interfaces around here are pretty great, so I thought I'd point out a way things could get even better.