QotD: Timeless Albums
October 11, 2006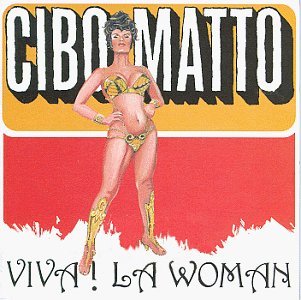 Cibo Matto
I had been wanting to post about this CD anyway, so here goes.
In 1997, I was 15 years old and watching MTV. When I saw Cibo Matto perform on Viva Variety, I didn't know what to think. So annoying. Yet so compelling. I did my ritual of going to the store and staring at the CD, doing research on the internet, and agonizing over whether I should buy the CD. I eventually did, and I really got into it.
It's hard to say now whether I genuinely liked Cibo Matto and Pizzicato Five on their own merits, or whether I just made myself like them because they were the current Japanese bands you could get in the USA and I had decided to like Japanese stuff. When Cibo Matto's second album Stereotype A came out, I truly did believe it was the best album of 1999. But after going and living in Japan myself, I found a whole bunch of new music and kind of scoffed at the stuff I'd liked before. Indeed, my Shonen Knife collection has been deleted from iTunes and will probably never get ripped again. But either way, liking those bands opened me up to so much I might never have liked otherwise, from Squarepusher to clammbon to LTJ Bukem.
But the other day I got an old Cibo Matto song "Beef Jerky" in my head, from their first CD Viva! La Woman, and I decided to give them another chance. I put the album on my iPod to see how much I could get through, and holy crap, this is still really good music.
I was especially impressed at the song "Theme". Over the past 8 years, I've gradually come to understand the lyrics to my Japanese music. It was kind of cool to start out not knowing a single thing, then figuring out a bit more every time I listened, until it was all perfectly clear. But I hadn't listened to "Theme" since I knew hardly no Japanese at all.  There's this Japanese rap in the middle of it, and I went from zero to complete understanding in one listen. It was so strange to listen to a song to which I knew perfectly from years ago, but for which I was really hearing the lyrics for the first time ever.
Can I discover something this good again? I'd sure like to dive into some new music.