Rocking Out
December 9, 2006
Our company's friend Jon came by to play some Wii tonight. After we'd tried all the games together, he wanted to check out Guitar Hero, which has become a standard at work. Of course, it was super fun, and we had a great time rocking out together. It's a really fun game to play with friends. But whenever I'm tempted to practice and actually get good at it, it occurs to me that I should spend that energy on a much deeper and more rewarding game called actually playing the real guitar.
Since moving to Seattle my practicing has been infrequent. I let months pass without taking out my bass or guitar. I've been coding, or playing video games, or reading, or watching DVDs, or building models, or going on trips. I really have too many interests. Recently I took up a software piano course, because my fiancée just doesn't care for guitars. But tonight after playing Rush, Primus, Foo Fighters, and Heart with Jon and Tom, I really felt the need to rock out for real.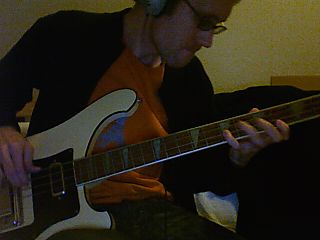 I opened up my Rush tablature folder and found Tom Sawyer, a good rocking tune that isn't too hilariously difficult. As it turns out, after all these years of crappy practice habits, I'm still okay at bass! I picked the song back up in about 2 listens, and I played along with Rush all the way through a couple of different versions. Now the index and middle fingers on my right hand have those pink blisters characteristic of having played for the first time in a while. All of the fingers on my left hand have the prickly numbness of just having played. During my times of not practicing, I feel a bit of disgrace at finding the tips of my fingers as soft as someone who'd never played at all. I used to play every day in high school. I often played for audiences of hundreds. Heck, I even had to change the way I hold a pen because of the calluses.
A couple of stands would help get my bass and guitar out where I'll see them every day, and make it easier for me to just pick one up and start playing around. iTunes, Garage Band, and my M-Audio instrument-USB interface make it easy to jam along with my favorite bands. I should take advantage of that. I want to rock out every day.