RosenQueen Item #1: DS Lite Screen Protector
May 9, 2007
The kind folks at the RosenQueen store, formerly the NIS America online store, had a little campaign in which recipients of their Milk Tea Times newsletter could receive free portable-game accessories for review. I signed up, and they sent me three nice items for my DS lite.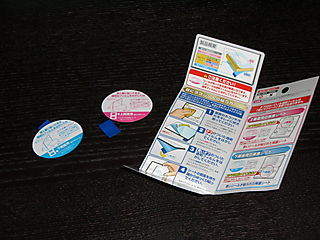 The first item I tried was the DS Lite Screen Protector. These are packaged rather well, with the two protectors color-coded to indicate which screen they go on. Each protector has a film on the front and a film on the back; you pull them off one by one, then gently stick the protector on the screen. You have to be really, really sure that there is no dust on your screen when you do this, and that no dust gets on the back side of the protector. The protector isn't super sticky, so you can retry until you get the positioning just right. But in the process of trying and retrying, I let one speck of dust get on the back of the protector. It wasn't too bad once the screen was turned on, but it was still visible. I tried to scrape it off, and only ended up getting more dust in there. In the end, I had to give up and peel off the protectors.
From the short time that the films were on there, I could tell that they would work quite nicely. They're certainly more pleasant to apply and less intrusive on the display than some other similar products I've seen. If you think you can trust yourself not to get any dust or dirt or fingerprints on it during the application process, I'd say go ahead and get it.