Shelf 2: OmniGraffle and OmniOutliner as media library
July 28, 2008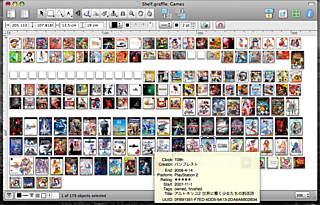 I found that none of the media library applications out there really worked well for me, so I set out to create my own solution using OmniGraffle, OmniOutliner, and Python (via appscript). Of course, it's not as friendly as something like, say, Delicious Library, so I wouldn't recommend it for the casual user. But for me it's lovely, because I can customize it to my own needs.
The custom data inspector stores all of my item details, the selection inspector lets me quickly select only games for a certain platform, and canvas scale means I can measure items' actual dimensions. So far I have a suite of 18 Python scripts that do various things like alphabetizing the selected items, trying to grab cover art from Amazon, importing items from Delicious Library, sending the whole mess over to OmniOutliner for mass-editing, and so on. None of this is really ready for common use, even if you are programming-inclined and you have appscript installed, but I thought I'd show off what I have so far.
Things remaining to be done include making the scripts more friendly (possibly wrapping them in nice AppleScripts for GUI use), looking up more details on Amazon, and getting all of my stuff that's not video games into this system. Of course, maybe I'm crazy and I should just wait for Delicious Monster to fix the bugs that are keeping me from using their app. But this way is pretty educational, and I'll save $20.