Sing Yesterday For Me, Volume 5
May 28, 2007
I just stopped by the Kinokuniya, and, as always, unoptimistically checked to see if there was anything new from Toume Kei or Urasawa Naoki. Seeing that there weren't any new volumes of Hatsuka Nezumi no Jikan or 20th Century Boys, I thought to check on Yesterday wo Utatte, just to see, just in case, and there were two copies of volume five just sitting there. Toume Kei takes a really, really long time to release comics; two volumes of this series have come out since I started reading it five years ago. But it's one of the original comics I chose at random from the shelves when trying to learn Japanese, and it'll always have a special significance for me.
And, ohhhh nooo, there is a limited edition that comes with a figure of Haru in her maid outfit… Want… ;_;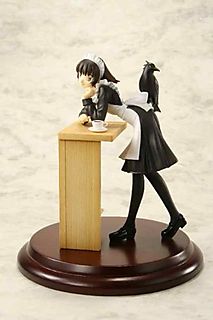 イエスタデイをうたって(5) 野中晴(ハルちゃん)オリジナルフィギュア付
冬目 景
Update: I ordered it.