Sleep Reprogramming Failure
September 26, 2006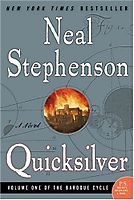 Quicksilver (The Baroque Cycle, Vol. 1)
Neal Stephenson
I couldn't sleep properly last night, so today I was pretty tired. I came home, had a bath, played a short bit of Atelier Iris 3, sent off two e-mails, and read Quicksilver until I fell asleep at 21:30. I was hoping to bust that cycle and see about having mornings again. But I woke up again at about 23:30, with anxious dreams that I was a 17th-century French noble who needed to mind his position at Versailles. I did have that thing where you wake up in the middle of some important sleep phase and your whole body is doing some sort of tingly thing.
It all reminded me of when I was home sick in 2003, reading Cryptonomicon (Another Stephenson book) and getting anxious dreams about WWII code-breaking. One time I woke up and the sleep-tingle conspired with the painkillers, causing some seriously surreal sensations.
Back to tonight; I tried for a long time to get back to sleep, but it wasn't working. Now it's past 2:00 and I still don't feel ready. Instead of getting to bed early and giving myself a full morning to get things done, I've wasted the evening trying to set up a decent sleep, and made it so that I probably won't even get up on time tomorrow.
There's got to be some way to get into a mode where I can sleep right, get to work at a good hour, get plenty of work done, and still feel like spending time on my own projects too. No combination of walking to work, eating properly, various sleep experiments, baths, and caffeine seems to yield a sustainable balance.