Someone Just Tried to Break Into My Car
September 27, 2006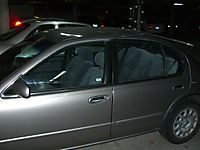 I went to sleep way early, trying to make up for only sleeping 2 hours the previous night. At about 3:25 I woke up to a car horn honking repeatedly; at first it seemed like some surreal extension of the dream I was having. Then I thought, "my alarm probably sounds like that… cars get broken into all the time here…"
I got up and stumbled downstairs, and sure enough, the metal piece around the driver's side window was bent way back to expose the seam between the window and the door.
The best part is that in making sure that I had my camera to take pictures of damages or escaping perps, I forgot to grab my keys. I went out front to wait for someone who might let me in, and just at that moment someone was rounding the exposed landing. I explained myself to her and, after she cleverly made me tell her what name was on my mailbox, she let me in.
Aye, this is the car which after one more payment will be mine. Aye, this is the car which has had nothing bad happen to it since I started driving it 3.5 years ago. I keep nothing of apparent value in the car.
Now I'm watching baitcar.com, and I won't be able to sleep for the rest of the night. :(