Test For Echo
April 30, 2007
This was the first Rush album to come out after I started caring about Rush. Somehow, maybe through the National Midnight Star e-mail list, I found out that they were going to be premeiring the title track on one of the local rock radio stations. I taped it, and listened to it over and over on the bus to school each day. Because of that tape, to this day whenever I listen to the album I half expect "Test For Echo" to lead straight into "Amazing" by Aerosmith.
After school on the release day, I rushed to Threshold, the local record store in Orland Park, Illinois, and picking up two copies: one for me and one for my brother Joe who was in Germany.
Whenever I listen to "Totem", I remember it as the song I was singing along with in my car when some guys pulled up next to me, started harassing me, and ended up punching me in the face and driving off. It probably didn't have that much to do with the song, but now I'm a lot more careful about singing along while stopped at red lights.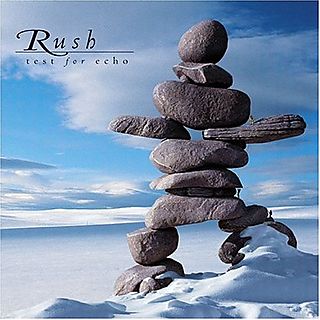 Rush
When the band toured to support this album, I went with my friend Craig to my long-awaited first Rush concert. One of the greatest moments of my entire life was when I realized the band was not just playing selections from the 2112 suite, but that it was playing 2112, my favorite piece of music, in its 20-minute entirety, in concert for the first time ever. I started flailing around elatedly, stumbling into the aisle where a passing staff member ushered me back to my seat.