Treasure
July 17, 2007
So we went to Chicago for a week, and within that, we made a mini-trip to Wisconsin. The awesomeness of our friends and families is encapsulated in this stuff:
A big party thrown by my family, in my sister's back yard, complete with lots of food on sticks, a chocolate fountain, cream puffs, a big bowl of Shirley Temples, and ham roll-ups
A whole bunch of origami cranes and a tiny, ceramic origami crane from my young cousin Emily
A whole huge set of Japanesque dishes and utensils and such from my sisters, bought at a fundraising auction
One of my mom's famous cross-stitches in a frame, commemorating our wedding day
A set of wine glasses from my boss
Lots of money and really lovely cards full of well-wishes
My ski pants, found in the cedar closet at Ben's house
Two suitcases worth of gifts from the lady's parents, the highlights of which include calligraphy equipment, milk-senbei, terrycloth blankets, the Japanese-style pillows I've wanted forever, rice bowls, miso-soup bowls, high-tech glasses-cleaning cloths, and an ear cleaner made from a whale's beard
My clammbon shirt, found while crawling around in Ben's attic, after thinking it was lost forever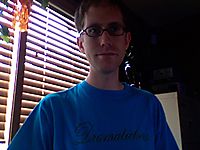 That's all just off the top of my head; in reality there's even more. We're so spoiled.