月の影 影の海
December 12, 2006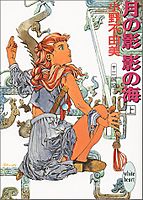 月の影 影の海〈上〉 十二国記 講談社X文庫―ホワイトハート
小野 不由美
So, a couple of years ago I challenged myself to start reading fiction in Japanese. Hiroko's family gave me a few books, and I have gotten through two of them so far: Akagawa Jirou's Futari, in 2004, and Otsuichi's Kimi ni Shika Kikoenai, last year.
At some point in Chicago, though, I also picked up the first Twelve Kingdoms book (in two volumes), after having seen a few episodes of the anime with Hiroko. She went on to watch them all as quickly as she could, and I fell asleep, so I never saw the whole series. But there in the bookstore, I must have been feeling that awful overwhelming feeling I still get at Kinokuniya, that there is so much stuff out there that I could be getting into, but that I don't know where to begin. I felt cool for knowing about one of the novel series there and bought it.
I'm still trying to remind myself that it's not my job to find and buy all of the cool new stuff that comes out; it's the creators' job to find me, whether right away or much later. In this case, I had heard about the anime, checked it out, and liked it enough to pay money for the books. That's how it's supposed to work: for some external reason or another I hear about a work, then I may or may not end up getting into it. I need to quit stressing out thinking that I need to seek this stuff out.
Anyway, the books were quite above my reading level back then, but now I think I can tackle them. I think they'll be just the thing for me right now; I'm quite in the mood for something not quite pure pop and not quite pure snooty literature; I want to level up my Japanese skill some more, and, uh, this is the most disorganized post. I'm reading a book I bought a long time ago, and I think it's going to be pretty good.