Where Is Your Time Going?
March 14, 2007
Hey everyone in the world:
My friend Jon has this site for keeping track of what you've been doing. It's kind of like tiny, tiny blogging. For a long time I've wanted to watch what kind of activities I'm spending my free time on, so that I can make sure things are balancing out. This does that, and adds an extra feeling of accomplishment when I do something "good".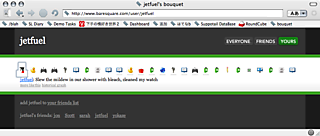 Now he's working on its usability, and he wants some more users to help him test it out. Maybe you should go create an account and start creating your own little trail of cute icons.