Xenoyears: Solaris
November 28, 2009
Some scenes I have no recollection of at all: the Emperor's appearance before the crowd, for instance. I have vague memories of Elly's house. Others, like the memory cube room in Krelian's (Kareruren's!) creepy lab, have stuck with me for the whole ten years. That the save points themselves represent a sinister conspiracy is a symbol of the sort of wholly epic game Xenogears is.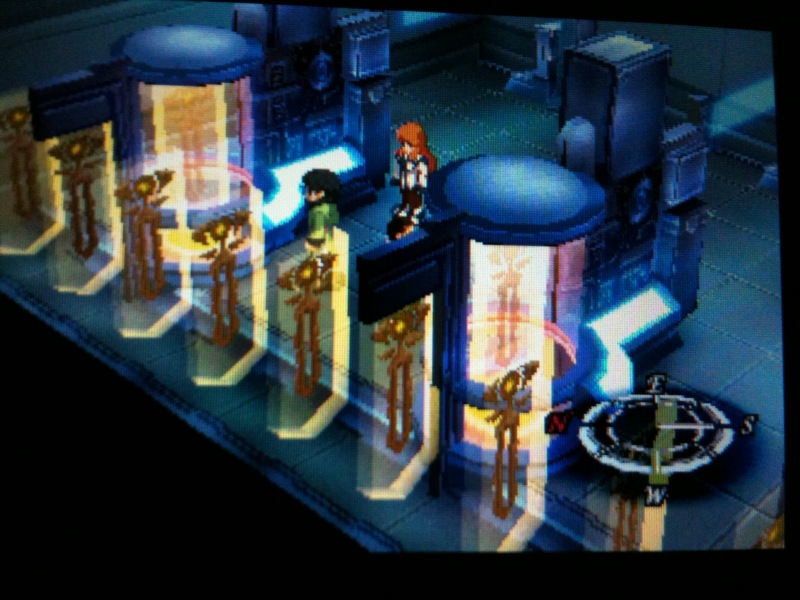 I'm close to Disc 2, and the story has already switched pretty abruptly from the lavish, certainly very expensive, highly detailed environments into the hands-off, dialogue- and narration-based storytelling. I remember not minding it that much the first time, but I certainly had a less critical gaming mind back then. We'll see how it goes, especially now that I have to read through the screens and screens of text in a foreign language. I nodded off a few times during the TV room sequence between Fei and the Gazel Ministry, even though this crazy background story stuff is my favorite part of the game…
What has struck me most during this replay is how spoiled I feel while playing. For the past ten years, I've consciously or unconsciously compared every story-oriented game to Xenogears. Is its story as epic? Are its characters as authentic? Is its world as captivating and momentous? Of course, the answers are almost always no. Sure, there is a nice love story, but it's no Fei and Elly. These robots are neat, but they're no Gears. I got so used to accepting that games don't stack up, that I'd forgotten that there was a game that did stack up: Xenogears itself!
Ah, and Disc 2 has begun. I'm going to be looking at this chair and pendant a lot: